Peak Performance Coaching
Cue: let's get ready to rumbleeee song
..to break through the barriers of your mind (and what you previously thought was possible for yourself) in order to exceed your current version?
This is what living out your peak performance is all about.
Peak: reaching the highest, greatest, maximum point
Performance: the execution of an action
Peak performance = your next level
Next level of:
Self concept (your internal beliefs about yourself)
Mindset (the established set of attitudes you hold)
Career advancement
Abundance, financial gains
Healthy relationships
Health, fitness, wellness
Inner peace, relaxation, calm
Spiritual alignment
Trust in life
Confidence
Reaching goals
Internal freedom
Skill development
Personal power
Leadership
Making boss moves
_____ (what's important to you)
We start our coaching journey together by identifying what I call your existing, yet outdated story. This consists of taking a look at your current reality, where you're at in life right now. Next, I have you identify your new story, aka what your next level looks like for you, what you're wanting.
Put it this way, If you want something you've never had before, you have to tell yourself a story that's never been told before. From this place, anything is possible. Anything? Yes, anything. You can have what you are willing to do the required work to get.
I help you bridge the gap of where you are and where you want to be.
There are mental blocks, emotional wounds, subconscious limiting beliefs and ongoing patterns that are standing in the way that must be understood, cleared out and updated.
Due to my unique approach of combining the practical with the spiritual, and the fact that I'm damn good at what I do, my clients tend to experience rapid results. 
When you're armed with practical tools, have the right skill set sharpened, and know how to implement universal spiritual principles, you become an unstoppable force of your highest nature.
You start to show up in the world differently. And as a natural effect, you get different results.
If you're ready for more, I'd love to coach you into your next level.
I have thoughtfully crafted a special coaching program that I've found to yield the highest results.
Next Level You
A 4 month transformational coaching experience
What you get:
Online questionnaire to fill out

Welcome package sent to you in the mail

8 one hour long coaching sessions (phone or zoom) every other week

Session Summary
This is what makes my coaching program unique. Since coaching is an intangible service, I help make it tangible for you by taking everything that we cover during each session, digesting it, summarizing it and delivering it back to you on a beautiful document with thought, precision and extreme attention to detail with sight of your overall journey in mind.

Session Prep Form
This keeps you engaged in our work throughout your week, so that it becomes an entire experience, not just an hour. You use this form as an opportunity to self assess, share, celebrate, address challenges and have open dialogue with me.

Homework assignments
Some universal assignments, but most will be catered to your specific coaching journey.

Email and Voxer access to me in between sessions
Want in?
Let's talk shop and discuss allll the deets.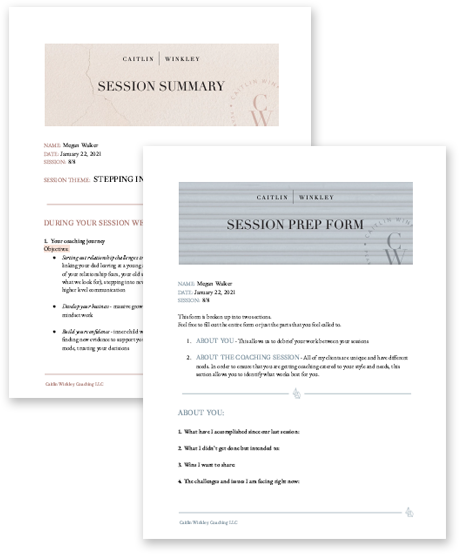 Returning client?
Of course you're back for more. I've got exclusive package options available just for you. VIP access only.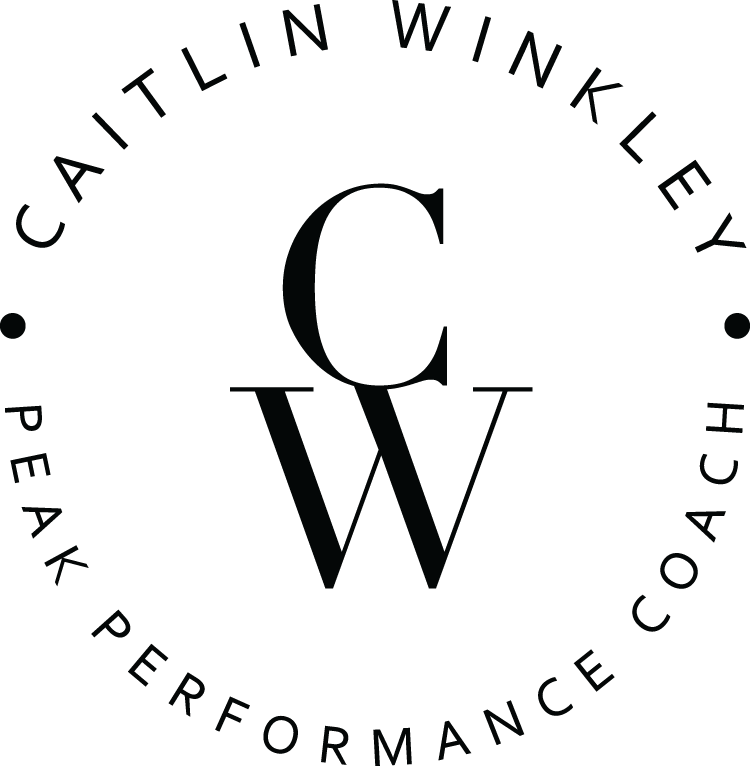 Sign up for
inspiration IN YOUR INBOX
© CAITLIN WINKLEY COACHING, LLC | WEBSITE BY KDesign
By using this Website, you agree to be bound by the terms of the Legal Disclaimer. Caitlin Winkley Coaching, LLC's services and content are not a substitute for professional medical or mental health advice, diagnosis, or treatment. For more information, see the full Legal Disclaimer here.