Heya boss babe,
You're the type of woman who wants to go in there and get it done, aren't you? I know…
You're busy. You have a full life. You value personal growth. You don't necessarily want to embark on a full on coaching program, yet you want the transformation. The breakthrough. The next level.
Sister, I've got just the thing just for you!
Take everything on my peak performance coaching page and intensify it, put it on steroids, put the pedal to the metal and you have VIP coaching days with me.
This is an accelerated coaching experience for the woman who wants fast results in less time.
How it works:
This will take place over Zoom. You start off by filling out an extensive questionnaire. You will identify the key target areas in your life you'd like to experience a rapid breakthrough and transformation in.

You will receive 6 hours of coaching stretched over 2 days. VIP Days typically take place over the weekend. It will be 2 hours of coaching on a Saturday and 4 hours of coaching on a Sunday with a half hour break. You will receive a live recording afterwards.

You will receive a 1 hour follow up accountability coaching call roughly 3 weeks after your VIP experience.

You will be mailed a gorgeous customized laminated, spiraled coaching book after our work is done. I will analyze the totality of our time together, capture it all thoroughly and package it up for you in an aesthetically pleasing way that's crisp and clear. You know how you keep your favorite book on your nightstand for regular referral? Well, you can consider this your new bedside bestie.
Check out Sara's VIP Coaching experience:
"Working with Caitlin was truly a life-changing experience. I came into our VIP sessions feeling stuck & a little defeated but open-minded and hopeful. I would describe my circumstances going into the sessions as "pretty good, not great" when it came to life and my business. And not because I haven't achieved some pretty cool things or love the life that I live, but because I found myself feeling drained of my energy more days than not, stuck when it came to moving the needle in a big way in my business, and buffering with unhealthy habits when I felt guilty about those things.
I was stuck in this cycle, and it felt like my potential was barely being tapped. I wanted SO much more, but when all of the moments of your day feel occupied and then you need time to "unwind" from those moments, there's no space left to grow. Caitlin helped me figure out how to not need an escape from my own life and how to practically bring a life vision into practice TODAY.
I am an avid reader of self-development books and I binge listen to all the best business podcasts so this concept isn't brand new to me, but it's never been framed in the way that Caitlin helped me to see. Why am I the way that I am? What do I *actually* want? What could it look like if I put all of this energy that I'm using in the wrong ways towards my big goals? What would that look and feel like and what would my environment have to be like? What thoughts would I have to think? And how can I start working on that NOW? And that's just scratching the surface with the work she takes you through. During our time together, I felt SO seen and heard. She doesn't ask the typical questions and there's no fluff. She gets to the core fast and this was so refreshing and helpful.
The work I've been able to do and the leadership role I've been able to take in my business since our sessions has been exponential. But even more valuable to me has been this new perspective shift–I'm going through my day feeling aligned, confident, energetic, powerful–I've consciously felt this shift and I decide to choose it over and over again. Caitlin teaches you the skills to do that. Before this, I don't think I would have believed that this level of change was possible in just a few hours but now I'm a firm believer that just a few hours with the right coach is exactly what I needed–a deep dive to get right to the heart of it. Caitlin was that for me when I needed it most. She gave me more than just inspiration: she helped me define what 'rising to the occasion' meant in my life, and she helped me figure out exactly what that action looks like so that I can actually make these changes instead of continuing to live in the cycle of desperately wishing for change and only staying motivated for a week (I know that cycle all too well).
I know so many friends and colleagues who are stuck in this place and I've recommended Caitlin at every opportunity I get. Trust me when I say I've tried it all–if you're serious about finally making your breakthrough and achieving those next level goals you've been daydreaming about for so long, you NEED Caitlin. Even if you're doing "okay" or "pretty good" like I was, there is SO much more out there for you. And the other side of that is PRICELESS. My only regret is that I didn't work with her sooner!"
-Sara Martin / Business Owner – F45 Training
If you're anything like Sara, I have an inkling you're someone who:
Is no BS, no fluff
Likes getting right to the heart of it
Is a quick, fast learner
Prefers high intensity learning environments vs receiving information in a longer, dripped out fashion
Is doing pretty good in life, but is so ready for more
If these are head nodders…
I want to hear from you.
Are You Blocking Your
Innate Potential?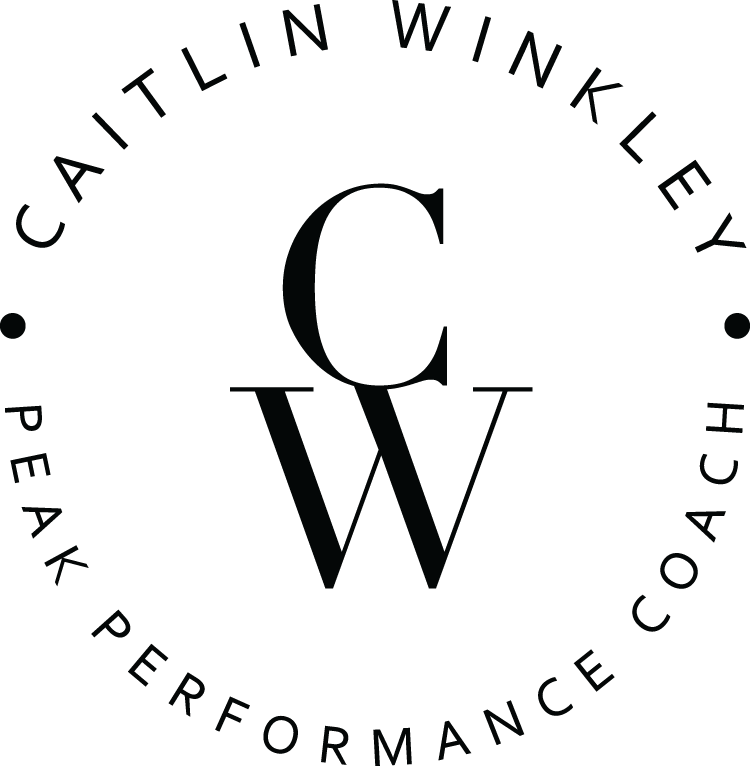 Sign up for
inspiration IN YOUR INBOX
© CAITLIN WINKLEY COACHING, LLC | WEBSITE BY KDesign
By using this Website, you agree to be bound by the terms of the Legal Disclaimer. Caitlin Winkley Coaching, LLC's services and content are not a substitute for professional medical or mental health advice, diagnosis, or treatment. For more information, see the full Legal Disclaimer here.