Are you thinking about becoming a life coach?
Because let me tell you, right now the coaching industry is booming like we've never seen it before.
The demand for coaches has reached new heights due to the pandemic causing people to ask themselves deeper questions, face parts of themselves they've put on the backburner and have the courage to reach for their next level.
Additionally, with most of the world transitioning to working at home, this is a powerful time to either make a career pivot or add on coaching to your already established profession.
My training solves the 3 biggest problems when it comes to wanting to become a coach:
How do I work through my own personal blocks that could be standing in the way of becoming a top level coach?

How do I coach others and facilitate a transformation to take place?

Once I know how to coach others, now what in terms of setting up a business and actually getting clients?

My comprehensive training addresses all 3 of these areas.
Most life coach trainings take place online, in group settings or via pre-recorded videos. Typically you will receive generalized education focused specifically on just the techniques and mechanics of coaching others.
The benefits of my training:
It doesn't matter how skilled of a coach you may be if you have subconscious limiting beliefs that are holding you back. That's why I dedicate the first 2 months to providing you with your own 1:1 coaching.

Additionally, yes of course you will learn the techniques and mechanics of how to coach others. You will also receive specific customized, tailored education based on your own unique coaching niche, which I help you develop.

Lastly, we finish up with business coaching, where I teach you everything you need to know about how to be successful within the coaching industry.
I am so stoked to introduce you to Next Level Life Coach Training
What you get:
6 months of 1:1 training, we meet once a week via Zoom or phone for 1 hour

A beautiful, comprehensive Course Book to accompany the training

A physical Certificate of completion of the training

A badge for your website that says you are a trained life coach

Access to a community of other like minded women who have gone through the training or are currently enrolled in the training
How it Works:
To be considered for acceptance into the training, you start by filling out an application. If you are advanced into the next round, you will then be asked to participate in a Zoom interview. Once accepted into the training, we meet once a week remotely for 1 hour duration coaching calls for 6 months. During month 3 and 4 of the training, you will be required to coach 2 practice, pro bono clients and you will fill out and turn in various forms that will accompany each practice session you complete. You must successfully complete all of the requirements in order to graduate from the training.
Requirements for graduation:
Attend 24 training sessions. Complete 12 practice coaching sessions. Turn in 36 filled out forms (24 forms will be filled out by you and 12 forms will be filled out by your 2 practice clients). Attend a final 45 minute coaching assessment call.
Month 1 & 2
Receiving Your Own Personal Life Coaching
For the first 2 months you will receive personal life coaching from me. In order to be a coach, It's very important you experience life coaching of your own. You may have already had life coaching before and that's great! However, when stepping into a new role as a coach, there's a lot that can come up for you around claiming your authoritative voice, being seen in new ways, integrating all of your parts, owning your innate gifts and working through any subconscious limiting beliefs that may be holding you back. Additionally, I will help you identify your own unique story and messaging and how you will use that as your life coaching platform.
Month 3 & 4
Learning How to Life Coach
During the 3rd and 4th month we will cover exactly what it means to be a life coach and how to conduct sessions and create a coaching program. We will go over technique and mechanics. This will include how to hold a session from start to finish. You will learn how to identify an overall theme in someone's life, how to spot patterns which funnel into that theme and how to recognize where someone is blocked. You will learn the basics of active listening, how to hold energetic space, session etiquette, how to build rapport with your clients and how to guide people into their highest self and reach specific coaching objectives. You'll learn how to step into your confidence as a leader, role model and how to show up from a place of knowledge and authority. You'll also learn the importance of authenticity and vulnerability as a coach.
Month 5 & 6
Creating a Life Coaching Business
I will help you create a life coaching business based off of your own unique business vision. We'll cover what it means to be a leader and how to show up as one within your community. We will go over your unique selling point (your niche), your message, your story, content marketing and how to build a brand. We will identify your best way for conveying your message. I will teach you how to create a killer website (website not included, just the knowledge) that attracts your ideal clients. I will show you how to create a solid social media presence. We'll dive into how to sell and how to cultivate a sales mindset. We'll also go over the nuts and bolts of how to run a business, including workflow processes, time management, administrative pieces and operations.
And are you ready for the
special sauce?
Most of my trainees get paying clients before they even graduate from the training.
Meet some of my graduates:
Working with Caitlin has been an empowering and life changing experience for me.
I was immediately drawn to her warm and inviting energy, but was altered by her firm, effective approach with her process. Within only one week of working with her, I began to experience breakthroughs in areas I felt stuck my whole life even after working with a therapist for years. By learning the tools to defeat my own limitations, I can now go on to coach others to do the same.
Gianna Sferlazza
Current hair colorist and life coach
Caitlin is a funny, fierce, gentle, wise bad-ass
and I am forever grateful to have taken the leap into a new life as a coach under her guidance!
Courtney Fullmer
Former college professor, current life coach
Website
Caitlin BROUGHT IT in her life coach training.
The training itself is comprehensive. It left me with new skills as a coach, with learning how to market myself and with starting to develop a business mindset. Caitlin herself is professional, polished, wise, and skillful as a coach and as your teacher. She embodies what she teaches and is 100% invested in your success as a coach.
Kate Lally
Former therapist, current life coach
Website
I used to have this weird gut feeling that all I wanted to do was help people, but that was so broad to understand.
When I met Caitlin and started working with her, I would get really excited, chills and felt all around devoted to this work to hone in changing for the better (her life coaching me). I kept getting this urge to ask Caitlin to get certified or to be a part of her life coach training because of this intense pull in my gut that this was my dream of helping people. But I was on the fence and didn't know whether to trust my gut.
Well, thank goodness I finally asked. She has been a serious light and guide through this journey, Caitlin has started to make my dream of helping people a reality.
This training has been nothing but amazing, teaching the tools to accelerate my niche. Not only does she teach how to become a life coach, but also your unique business plan of how you want to life coach and creating the first steps.
This has truly been an incredible experience of opening one massive door in my life and I would recommend to anyone who feels like this is their calling.
I could cry, I feel so happy I made the choice I did.
Are you experiencing that gut feeling like Sophie?
My next round of training will begin Spring 2021
Enrollment is open NOW. My training has sold out every round and it will sell out again. There are only a few spots left. I am currently taking deposits to reserve your spot.
Trust your gut. Don't wait. Reach out to me now.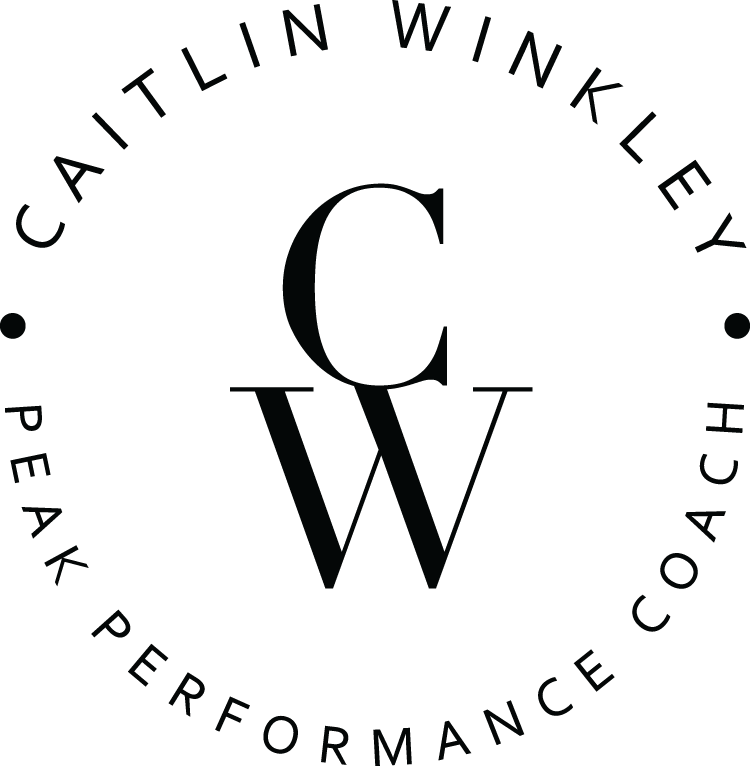 Sign up for
inspiration IN YOUR INBOX
© CAITLIN WINKLEY COACHING, LLC | WEBSITE BY KDesign
By using this Website, you agree to be bound by the terms of the Legal Disclaimer. Caitlin Winkley Coaching, LLC's services and content are not a substitute for professional medical or mental health advice, diagnosis, or treatment. For more information, see the full Legal Disclaimer here.